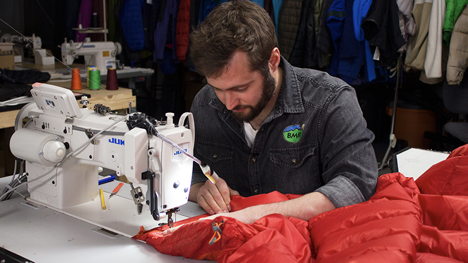 Check Out Our Video On Outdoor Gear Maintenance And Repair!
We cover everything you need to know about taking care of your outerwear, equipment, and accessories. From washing and drying to hole-patching and seam-fixing, you'll learn preventative maintenance, repair kit essentials, on-trail fixes, and item-specific repairs for your tents, jackets, bags, and packs.
Of course, some repairs are a little much to handle at home so reach out to us at BMR and we can handle the tough repairs for you from here. We're working through this with a minimal crew, some of working from home, and a few of us here at the shop, making sure to distance, and keeping diligent to make sure our workspace is clean and safe. We're able keep going as we're proud to be working on a couple projects that will supply responders with the equipment they need to deal with this and future crisis.
We're also happy to be able to, even if in a limited capacity, continue to service the outdoor community of Colorado and the rest of the US. In that spirit, we are here at the shop with limited hours, weekdays from 10am-3pm, and welcome you to stop by. To be safe, the preferred way to do things for now would be to work through the mail, and so we continue to offer free return shipping on any retail repairs you would like to send in to us.
Watch the Video Here – href="https://bouldermtnrepair.com/education/